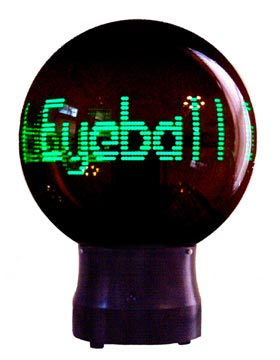 Eyeball™ is a Volumetric Rotating Display Device. It consists of a vertical fan of Light Emitting Diodes (LEDs) rotating at a high speed within a darkened impact resistant plastic globe.
The LEDs are lit for extremely short periods (nano-seconds) by computer software contained within the machine. Messages are sent to the Eyeball via Infrared keyboard or the Newscanner Message Management Software.
The Eyeball™ can be displayed in an upright position or suspended in an inverted position from above. The Eyeball is available in 5 fixed color: Red, Green, Blue, White, and Yellow/Orange.
Rent or purchase one for your event or business and display your own custom message.